We are located in Upstate NY is perfect setting to unleash your inner sex kitten. Use of our costumes, wigs and props as well as our and hotel bedroom setup is included.
Below is a gallery of some images from boudoir sessions in our private Studio.
BRIDAL BOUDOIR PHOTOS BELOW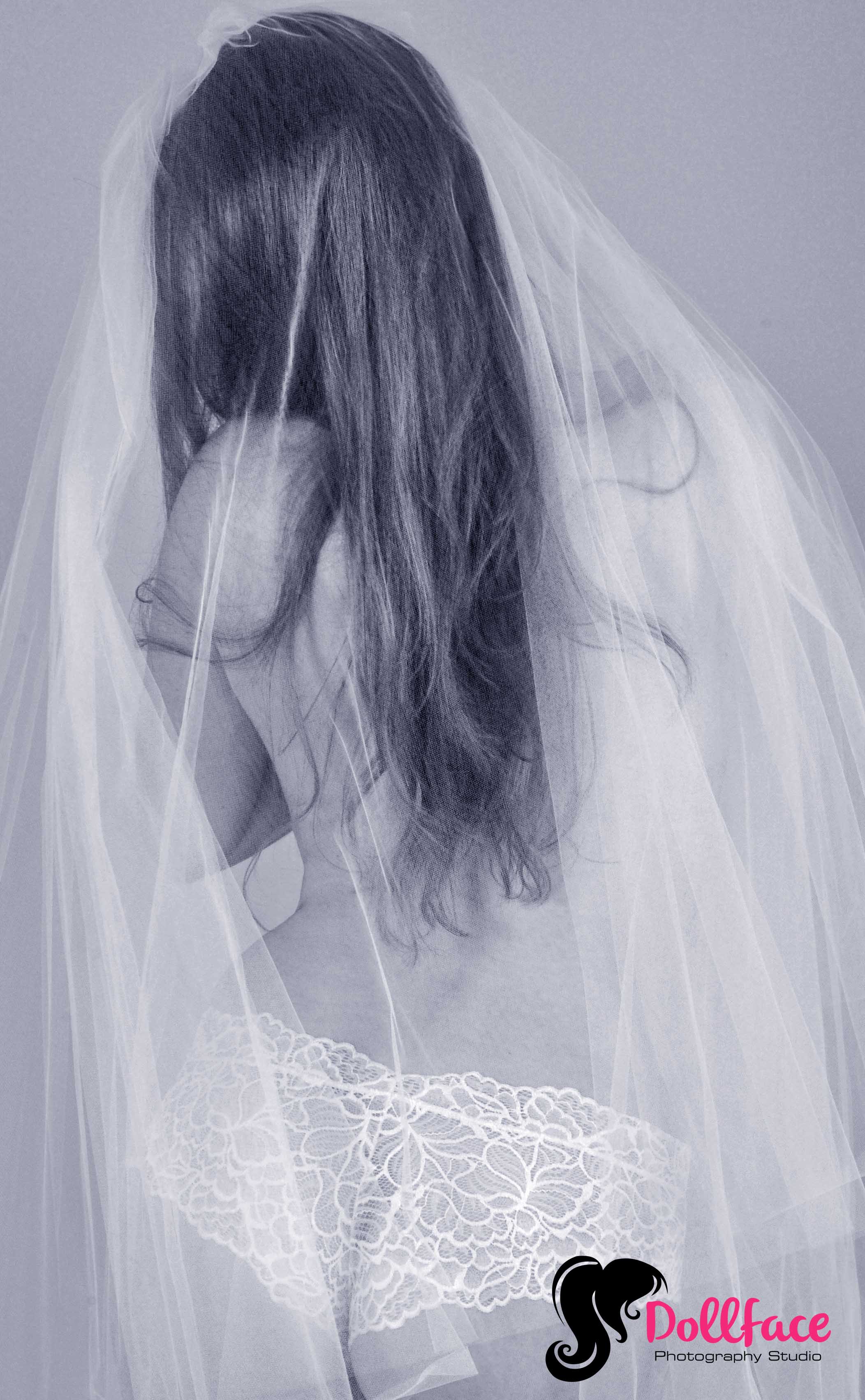 FAQ (pinups & boudoir)
Q: What is the cost and what does it include?
A: A Pinup Makeover & Photo Shoot is only $275.00 + tax which includes use of all pinup costumes, props, makeup with professional makeup artist, photo shoot with female pinup photographer – Lorraine Toth. We have kept it very affordable for you to get the star treatment. If you would like false eyelashes they are an additional $6.00 for a set that can be re-used up to four times. You will need to bring a Flash Drive for us to upload your photos onto the day of the session. High resolution images& copyright release are included in the $275.00.
Q: How many pictures are taken?
A: Generally most women get between 120-150 + images. The number depends on how fast you change costumes, how quickly you transition into poses, how many wig changes you wish for and how many looks you are trying for. The maximum number of costume changes in a standard shoot is 3. This means you can pick out 3 different costumes.
Q: I am trying to plan my day – how long am I there?
A: You will be in makeup & costume for approximately one hour. Your shoot is about 50 minutes and then 10 minutes to burn your images from your session onto YOUR flash drive so you can take them home with you right then. All in all plan on about 2 hours and 10 minutes. If you would like to try on costumes add in an additional 10-15 minutes prior to your makeup start time.
Q: I want to bring my own costumes and lingerie. Is that ok?
A: Of course, we always recommend the gals bring around 3 outfits from home in the event ours do not fit you the way you were hoping.
Q: I have never posed before. I am worried I will not know what to do.
A: Lorraine has experience modeling so she is able to guide the most amateur woman through poses and looks. She specializes in posing women for their body type as well. We do recommend you practice posing in the mirror prior to your shoot though as facial expressions are very important. If your face is not relaxed the shot will not come out good.
Q: Can I just do my own makeup?
A: No, we need you to have the best quality makeup for our studio lighting so leave it to us the experts
Q: Can I do half the shoot with my real hair and half with the fake hair?
A: Yes, a lot of women do it this way.

Q: What is required to book a shoot?
A: A 50% deposit is required to book all shoots. We do not hold any time slots without a deposit. Once your deposit is received you will receive an email confirmation.

Q: Can I bring my husband/boyfriend along with me?
A: No, for the comfort of other models that may be scheduled prior or after your shoot we do not allow men in the studio. Besides, it will be more of a surprise if he isn't watching you.
Q: Can I book an additional hour of photo time?
A: Yes, if you are the last shoot of the day we would be happy to add an additional hour for $125.00 extra. A lot of women that are having calendars made opt for this additional camera time.
Q: What do I have to bring the day of my shoot as far as money goes?
A: You must bring the balance due in CASH or bank certified check only! We do not accept credit cards or personal checks. We will be unable to do your photo shoot unless you pay the balance prior to your shoot. If you wish to pay with your credit card – please let us know 3 days prior to your shoot and we will bill you via Paypal.
Q: Is there any additional things I need to know?
A: Please show up with no makeup on. If you are wearing a wig then your hair does not need to be styled. If you are wearing your hair then it must be styled prior to makeup. Please bring a backup outfit or two in the event our costumes do not fit. If you are wearing a Pinup Costume, please come in a few minutes early l to try on costumes ahead of time for the shoot - this will allow you more camera time. Please bring 2 pair of heels with clean bottoms. (Dirty worn out shoes do not photograph well with poses where shoe bottoms show). If you are doing the Jack Daniels mink poses on my site you will need sexy underwear such as a thong or boy shorts. A strapless bra & halter bra are also recommended. REMEMBER TO CUT OUT TAGS OUT OF BRAS AND UNDIES!!!!
Q: Will my pictures be like the ones in magazines?
A: All photos in magazines are airbrushed and photo-shopped. You will receive all unedited images. This means lighting may need to be brightened a bit, you may have a blemish or there may be marks on the floor from your high heels….
Please be aware that if a tag on your outfit/lingerie is showing it is not the photographer's fault and therefore any airbrushing necessary to remove tags from images is at the expense of the client. Also, if backdrops, lights, studio equipment shows in a few images it can simply be cropped using Iphoto. We get many different camera angles for your benefit so sometimes a light stand may crop into the photo. Again, this disc is all raw and unedited so any editing is at the expense of client.
Q: Where are you located?
A: We have a studio in Clifton Park, NY. The studio will be used exclusively for Pinups and not outsiders or men allowed in. We have a restroom and changing area for your convenience.
TIPS:
We do not supply undies. I STRONGLY recommend you practice facial expressions and poses ahead of time! A good site to reference for ideas is GOOGLE pinup.
Bring props with you. If you use tanner make sure you are even - no lines. If you have a sunburn and bikini lines, it will show.

Cancellation Policy:
If First Impressions cancels for any reason a refund will be issued or chance to reschedule. No deposit refunds if model cancels, however with 7 days notice shoot may be rescheduled.
Gratuity:
If you wish, you may want to bring extra cash if you would like to tip the makeup artist as she is separate from Dollface Studios NY.
Rundown of your appointment
You get a 2 hour appointment with us where it is an all female staff. You come in with no makeup and are transformed for the first 45 minutes (approximately) by our makeup artist. After you get into your first outfit, you then go to the photography studio area where you have the sole attention of photographer Lorraine who captures around 120-160+ images. After your photo session you get back into your clothes and wait for your high resolution images to be loaded onto YOUR flash drive for you to take home (please be sure to bring an 8gb flash drive with you). Should you forget flash drive a link will be emailed to you with online private gallery to download all images. If you wish to purchase faux eyelashes they are an additional $6.00. They make a huge difference in your shots and are highly recommended.
PLEASE READ OUR FAQ sheet above for complete answers and in depth information. XOXO, Lorraine
Below is a gallery showing our pinup costumes, props and wigs we offer for use. Please let us know if you are interested in these so we can set them aside prior. All photos in gallery below by: Lorraine Toth.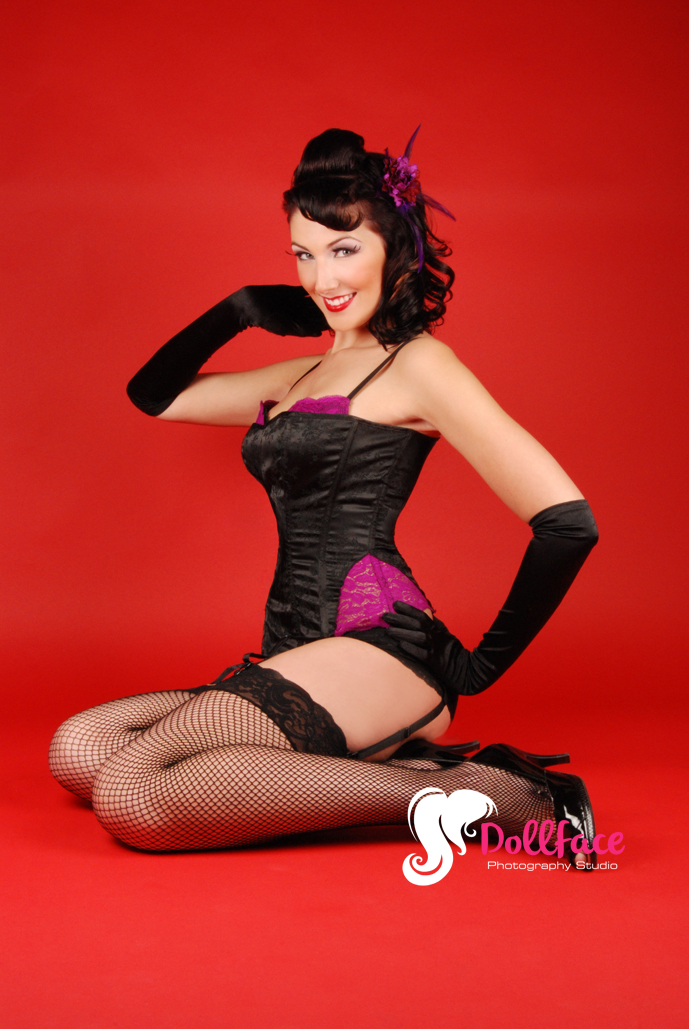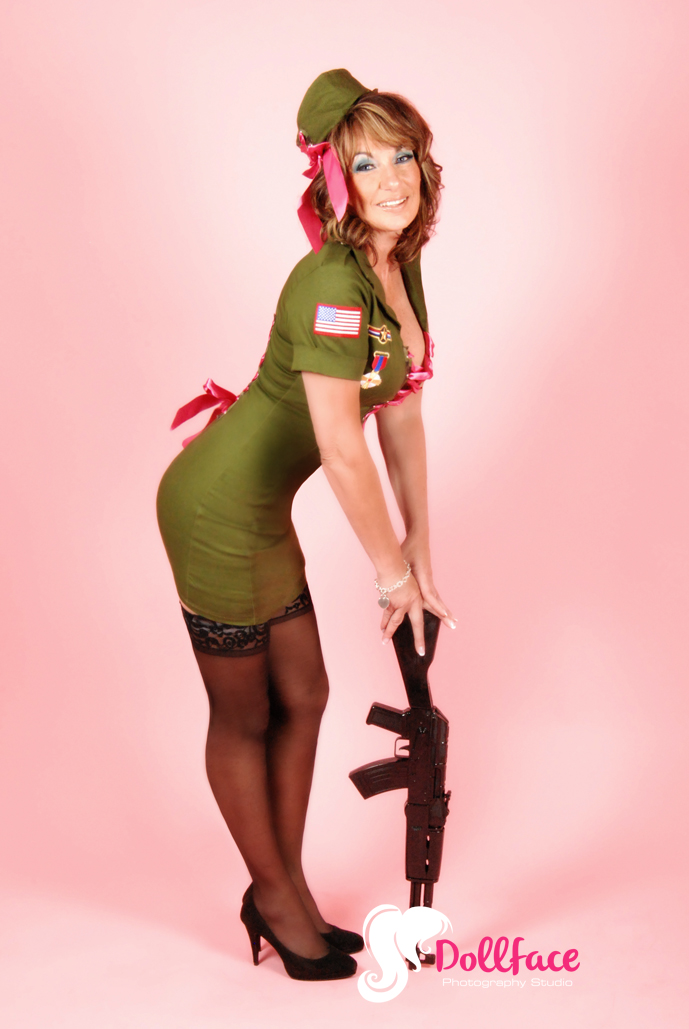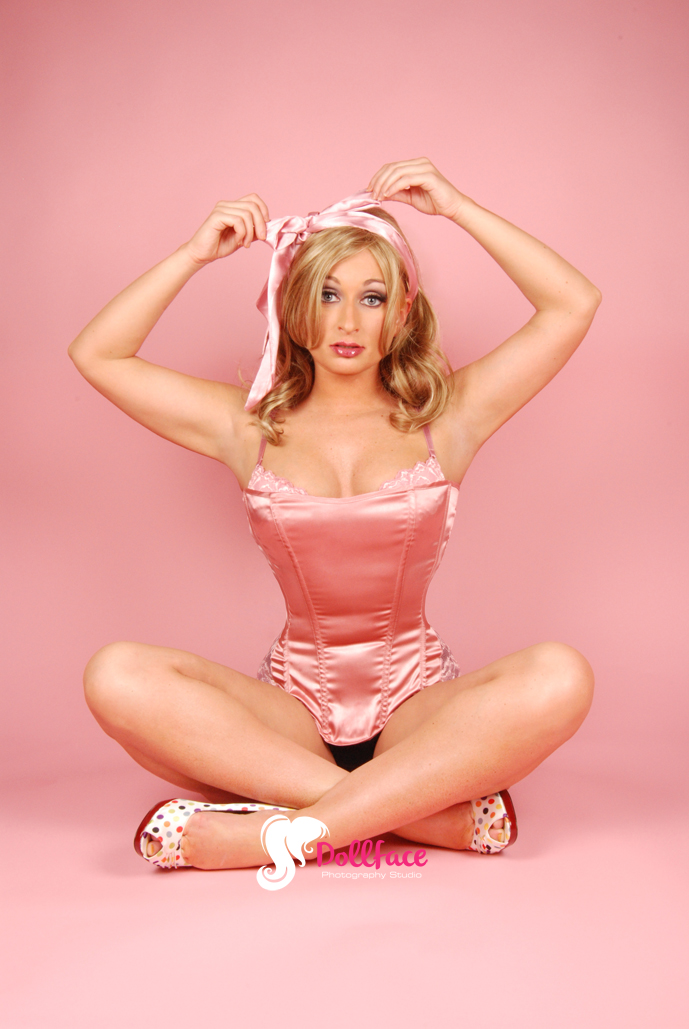 Below we show our model on screen shots which are completely unedited and natural light for her session.
Boudoir In Studio Photo Shoot
Outdoor Natural Light Farm Bikini Shoot